Cosmetic Dentistry: Discover a Brighter, More Beautiful Smile
Do you want to improve your smile? Dr. Dempsey and our team of doctors in Oklahoma City, OK, can work wonders that will help you achieve that perfect smile you've always wanted. For example, you can now close spaces and gaps between your teeth. Crooked, cracked or chipped teeth can be fixed so easily, to provide you with a nice, less self-conscious smile. You can whiten your teeth for a brighter, more youthful and healthy look. Dr. Dempsey's expertise and performance in cosmetic dentistry doesn't just make you look better, it makes you feel better!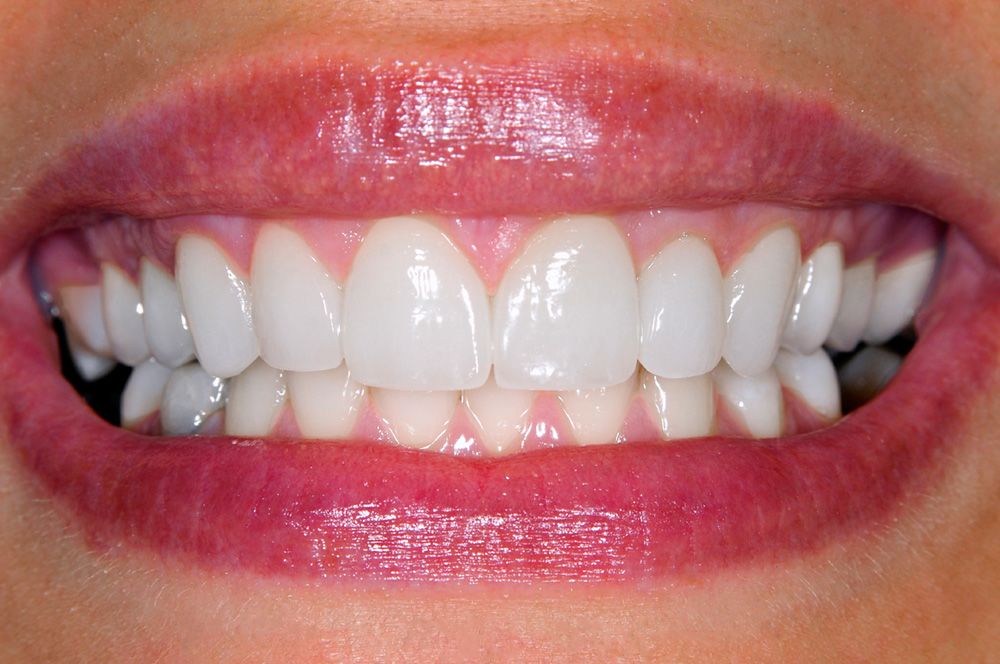 Am I a Good Candidate?
Ask yourself some of the questions below to see if cosmetic dentistry might be something you'd like to know more about. You can also download a Smile Analysis questionnaire under "Patient Forms" on this site.
Are you unhappy with the appearance of any of your teeth?
Do you have any discolored teeth that bother you?
Are your teeth stained or look yellow or gray?
Do you feel that your teeth make you look older?
Have your teeth become darker with age?
Are you unhappy with the shape, size or position of your front teeth?
Do you have silver that shows in your smile?
Are your teeth crowded?
Are there spaces between your teeth that you don't like?
Do you have any chipped or uneven teeth?
If you answered yes to any of these questions, you may be a good candidate for cosmetic dentistry. Please call us our office today for a free consultation or more information regarding possible cosmetic dentistry for you and your family, (405) 947-0044.
Maintaining a Healthy Smile
You should also be aware of some bad Oral Health Habits that can be affecting your smile. Many people have some hard to break habits that can ruin even the best of smiles. Some bad habits can cause wear, chipping, spacing, and even fractures to your teeth. Many of these habits were developed from childhood, but people should become conscious of the harms associated with them to avoid pain or preventable treatment. Below you'll find a list of some bad oral habits that can negatively alter one's smile:
Chewing pens and pencils
Fingernail biting
Grinding and Clenching teeth
Chewing hard substances (ice cubes, jaw breakers, hard candies)
Cheek or Lip biting
Thumb sucking
Continually holding things with your teeth (keys, toothpicks for long periods,glasses,etc.)
Smoking and Chewing Tobacco (cigarettes, pipes, cigars)
Opening drink bottles & cans with your teeth
There are certainly other habits that could be included in this list. But the important thing to remember is to recognize the habit and eliminate it. Doing so will help you maintain healthy gums and teeth and keep your beautiful smile!
Our cosmetic treatments deliver incredible aesthetic results, and can also help patients achieve a boost in confidence that had been missing because of damaged, unattractive teeth.
Brighten Your Smile with Teeth Whitening
There are two methods for whitening teeth. One is the take-home technique and the other is In-Office ZOOM! Whitening. While both are very effective, they're both distinctly different.
Take-Home Whitening
First, models are taken of your mouth. A custom made & fitting, soft plastic bleaching tray is made from them & is to be worn 2-3 hours a day or slept in overnight. You'll be provided with a safe whitening gel to be placed in the trays. This type of whitening can take up to 2 weeks to acquire desired results. Some results can be achieved in a shorter term, while others require more time. The effects of this type of whitening are outstanding. While Take Home Whitening may not provide such instant results as In-Office Whitening, it is still a very effective method and allows the patient to have more control over desired shades.
In-Office Whitening
This is performed by using a very concentrated bleaching product on the teeth. Our office uses ZOOM Whitening products, as seen on Extreme Makeover, the TV show. Once the bleaching agent has been applied to the teeth, a bright light is administered to the teeth for approximately 1 hour. On average, patients will achieve 4-6 shades whiter than from start. Results typically last 24-26 months, depending on the patient's eating & drinking habits. The results are always amazing and very satisfying to the patients. You will be provided with whitening trays & gel to take home to use for periodic touch-ups as well.
The benefits of bleaching your teeth are obvious. Whitening your teeth not only gives you a younger look, but a more confident smile. Professional Whitening is not to be confused with over the counter whitening products. None of the products used in our office are harmful, or abrasive to the enamel of the tooth.
Something to keep in mind is that some of our everyday practices can actually be causing your teeth to discolor. Items such as cigarettes and any tobacco products for that matter, along with coffee, tea, red wines, and dark colas, all contribute to the discoloration of our teeth. With Whitening, you can reverse the effects of aging & staining that occurs everyday.
Fill Spaces and Gaps with Dental Bonding
If you have undesired spaces or gaps between your teeth, you might consider composite bonding. With today's modern dentistry, our team has the ability to provide you with custom-made, tooth-colored material, called composite resin. This material is bonded onto the teeth on either side of the gap or space until it is closed. In most cases, no anesthesia is needed. And depending up on the size of the gaps or spaces, composite bonding may or may not be the right solution for you.
How Veneers Can Conceal Tooth Imperfections
If you are unhappy with the shape, size or position of your front teeth, there are a few cosmetic options for you to choose from. One method is composite bonding, a nearly painless procedure that can fix most minor smile adjustments. Another, very popular, method is porcelain veneers. With veneers, your smile can be completely transformed. They are thin, custom-made moldings that cover each unattractive tooth. Each veneer is individually sculpted for each patient and tooth. Dr. Dempsey is very experienced with Veneers and it is nearly impossible to tell the difference between the veneer and the natural tooth.
Replacing Old Fillings with Tooth-Colored Fillings
If you are ready to take the silver out of your smile, then Dr. Dempsey is the right dentist for you. With today's dental technology, all of your old silver fillings can be removed and replaced with tooth-colored, unnoticeable composite fillings. Not only are these fillings more pleasing to the eye, the properties of them are excellent as well. Unlike amalgam, or silver fillings, the composite material does not expand or contract upon temperature changes, therefore providing a very stable, long -lasting restoration. Again, this procedure looks natural and is simple to complete.
Options for Crowded Teeth
Patients with crowded or crooked teeth are great candidates for porcelain veneers or laminates. The misshapen or crowded tooth is slightly shaved down; causing no harm to the natural tooth, then is covered with a thin layer of tooth-colored porcelain. The porcelain is bonded directly to the natural tooth, giving you a completely natural looking smile. Veneers, due to their porcelain make, do not stain like natural teeth. They are easily polished and are made to last a long time. Depending upon the level of crowding, orthodontics or Invisalign may be needed to achieve the most desired result.
INVISALIGN®
Invisalign straightens your teeth using a series of custom-made, nearly undetectable aligners. So whether your teeth are crowded, too far apart, or have shifted since wearing braces, Invisalign will help you start smiling more!
Contact Us Today
Here in Dr. Dempsey's office, we offer you a full range of cosmetic options, including veneers, laminates, crowns, inlays, onlays, Invisalign, whitening, tooth-colored restorations, dental implants, and so much more. Please call our office for more information regarding any of these procedures or to schedule a free consultation today, (405) 947-0044, or send us a message directly through the website.